Sorry about the mess

This article/secion is a mess! Please clean up this article before removing this template.
More to add, have you?

It is requested that this article/section of an article be expanded. Once the article contains more information, this template will be removed.
Dooku was a Human Male Jedi then Sith Lord in the days of the Galactic Republic. He was one of only twenty Jedi to leave the order. He was killed by Anakin Skywalker towards the end of the Clone Wars.
Biography
Edit
Dooku was taken by the Jedi Order while still very young and was trained as a Jedi by Master Yoda. Dooku became a Jedi Master and trained Qui-Gon Jinn to Knighthood but left the order shortly after Jinn's death.
After leaving, the Dooku took on his rightful place as Count of Serenno and was approached by Darth Sidious who became his master. The Count took on the name Darth Tyranus and killed the Jedi Sifo-Dyas. Dooku arranged for a Clone Army to be created in the name of Sifo-Dyas for the Separatist cause, paying Jango Fett to be the template.
Obi-Wan Kenobi came across him later on Geonosis as head of the Separatist Movement while tracking Jango Fett to find out who wanted Senator Padmé Amidala dead and was captured by the Count, who tryed to convince him to join the cause. Dooku isn't surprised when he refuses and he sends Kenobi and his padawan, Anakin Skywalker along with Senator Amidala into Penetraki Arena to be executed, promising Nute Gunray, the Viceroy of the Trade Federation that Amidala would die. Gunray hated Amidala for ruining his plans during the Battle of Naboo and wouldn't join the Separatist completely until she was dead. When the arena beasts fail, Dooku sends droids out. He is suddenly confronted by Mace Windu who takes him by surprise, activating his purple blade in front of Jango Fett, the Count's bodyguard's kneck. Dooku watched as hundreds of Jedi appear in the crowd of Geonosians. After an intense battle, Mace cuts of Jango's head orphaning the young Boba Fett. The remaining Jedi are surrounded in a Circle in the middle of the Arena when Gunships containing the Clone Troopers, Count Dooku had planned for the Separatist arrive and rescue them.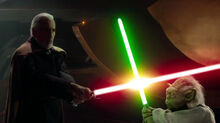 Dooku attempts to escape the rest of the battle and flees to his hangar but is pursued by Anakin and Obi-Wan who catch up to him as he is about to leave in his Solar Sailer. They fight but Dooku dominates, cutting off Anakin's hand and knocking out Obi-Wan. Dooku's old master arrives - Yoda. The two duel but Yoda easily bests his old apprentice. Dooku calls on the force and sends debris falling towards the other two Jedi and Yoda is forced to use his force powers to save them, allowing Dooku to escape.
Clone Wars
Edit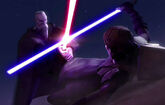 Dooku at some point sends his apprentice Asajj Ventress to Christophsis to help General Whorm Loathsom during the Battle of Christophsis.
To gain control over the Hutt Clans, Dooku made a deal with Ziro the Hutt, Jabba the Hutt's uncle and kidnapped Rotta the Huttlet, Jabba's son. Dooku tricked Jabba into believing that Anakin and his padawan Ahsoka Tano were terrorising the baby when footage was secretly taken of them with the Huttlet and into thinking that the Jedi were the evil ones. Dooku arrived on Tatooine to kill the Huttlet and ensure his alliance with the Hutts and duels Anakin. Dooku finds out that Skywalker tricked him and the Hutt was with his Apprentice but he tells the jedi that his Magnaguards are following her and would capture her and take her to Jabba who would execute her. However, Ahsoka evades the droids and brings the baby to his father who realises Ziro and Dooku's treachery. Dooku leaves Tatooine, informing his master of his failure.

Dooku sent Ventress to intercept a meeting between Yoda and King Katuunko on Rugosa to convince the Toydarian King to join the Separatist instead of the Republic.
Dooku was later on the Malevolence when Plo Koon and his Clone Troopers were stranded inside an escape pod and left after failing to destroy it still ordering Grievous via Hologram as he attacked the Republic Medical Station.
Dooku ordered Ventress to free Trade Federation Viceroy Nute Gunray after he was captured on Rodia also convincing Senate Commando Argyus to help with the task.
Dooku arranged a test for General Grievous in which he allowed Nahdar Vebb and Kit Fisto to arrive at his castle on Vassek. After his first attempt on killing them fails, Dooku tells Grievous that he arranged the test in which an enraged Grievous marches off to finish the Jedi off. He kills the Mon Calamari Nahdar but fails to destroy Fisto who escapes in his Starfighter.
Dooku captured Anakin Skywalker and held him on his command ship but was soon confronted by Obi-Wan Kenobi who freed his former Apprentice and they dueled the Sith Lord. Crash landing on Vanquor, Dooku made a deal with Hondo Ohnaka for a safe passage to Florrum but upon arrival he was captured by the Pirates and ransomed to the Galactic Republic.
The Jedi Skywalker and Kenobi arrive to ensure that Dooku was indeed captured by the Pirates and upon meeting Dooku they are warned the Pirates wouldn't let them leave.
Dooku ended up being correct and the Jedi were taken captive with the Sith Lord and the three were forced to work together to escape. However all of their attempts failed.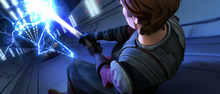 When representative Jar Jar Binks arrived to save the Jedi, Dooku killed Turk Falso and Barb Mentir before making his escape.
Dooku learned of Wat Tambor's failure on Ryloth and while he was still in the city in captivity, the Sith Lord ordered the City Bombed. Unfortunately for Dooku, Skywalker and Tano shot the Hyena Bombers down before they could complete this task.
Dooku allianced with Death Watch in order to take over Mandalore but after their failure he broke off with them again, breaking their trust and dueling their leader Pre Vizla, giving him a scar.
In order to continue the Clone Wars, Dooku sent droids to assassinate Separatist Senator Mina Bonteri although he blamed it on Republic Clone Troopers.
Sidious ordered Tyranus to eliminate Ventress as a test of trust to him and Dooku ordered a Tactical Droid to carry out this order. Ventress escaped to the Nightsisters where she was welcomed by Mother Talzin.
Tyranus was later attacked by Ventress and some Nightsisters at his palace on Serenno and even though he couldn't see them due to magic, he still managed to fend them off with Force Lightning.
Mother Talzin offered Dooku another apprentice from the Nightbrothers village and he accepted. Unknown to him, the apprentice would be a tool against the sith lord.
Savage Opress was given to Dooku and was brutally trained by him.
After failing to bring King Katuunko alive to Dooku, Opress was blasted by Sith Lightning. Ventress arrived and revealed herself as Opress's real master and the two duel the Sith Lord in an attempt to bring him down.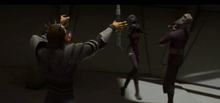 Savage turned on Ventress and force choked both her and Dooku and attempted to destroy them but they escape. Dooku orders his Battle Droids to kill Opress as Obi-Wan and Anakin arrive but they droids fail. Ventress also escapes with an anger aimed at Opress for turning on her.
General Grievous was captured by the Gungans he planned to use as his own army and Dooku was forced to capture Anakin Skywalker who he was able to swap for the General.
Dooku arrived on Zygerria and ordered Queen Miraj Scintel to kill the Jedi she had captive but she refused. Dooku force choked Miraj to death as Skywalker arrived and the two duel. Dooku orders Keeper Argruss to kill Kenobi and Captain Rex when the Republic attacks Kadavo but he fails and Rex ends up impaling him with a spear.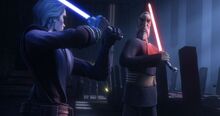 In order to capture Chancellor Palpatine, Dooku hires Moralo Eval to test the Bounty Hunters of the Galaxy in his contraption, The Box. In the end Obi-Wan Kenobi disguised as Rako Hardeen stops the hunters when they attempt to capture him on Naboo during a festival but Dooku waits for most of the Jedi to leave, believing the danger is over and then came for the Chancellor himself. Obi-Wan and Anakin manage to save the Chancellor just as Dooku is about to leave with him.
Dooku ordered Grievous to wipe out the Dathomir witches in which he did all except Talzin and Ventress.
Dooku was sent the Inhibitor Chips of Clone Troopers Tup and Fives which contained the evidence of Order 66 and he disposed of both.
Dooku arranged for Senator Rush Clovis to take control of the Banking Clan and then tricked him into raising the Republic's interest rates. Dooku arrived on Scipio and arrested Padmé Amidala. As republic forces arrive, Dooku escapes on Kraken's Flagship.
Dooku arrived on Oba Diah and killed Silman before he could reveal anything about Sifo-Dyas to Kenobi and Skywalker. The two duel the Sith Lord but he escapes after revealing himself as Darth Tyranus.
Asajj Ventress attempted to assassinate the Count once more with the aid of Jedi Quinlan Vos. Asajj and Quinlan duel Dooku and Grievous on Raxus but they fail and Vos is captured.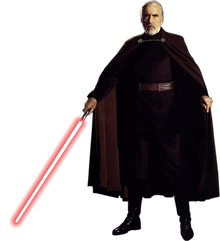 Dooku convinces Vos that it was Ventress who killed Tholme no himself and that she had lied to him only by making him see for himself by giving him Tholme's lightsaber. Asajj attempts to rescue Vos with Boba Fett's Syndicate but fail when Vos is revealed to be working for Dooku even though he secretly has a larger goal...kill both Sidious and Dooku!
Dooku duels Anakin Skywalker, Ventress and Obi-Wan Kenobi on his flagship when they expect to find Quinlan Vos. They save Vos who was in the lower levels.
Dooku interrogates the captured Darth Maul on Stygeon Prime about the other members of Shadow Collective but fails to gain any information. However, Maul soon escaped the prison with the help of two Mandalorian Super Commandos, Gar Saxon and Rook Kast. Sidious explains that it was all part of his plan to draw out Mother Talzin.
After Grievous drove Death Watch from their base, Maul went to Ord Mantel where Dooku and the General attacked. Brother Viscus and his Nightbrothers attacked the Sith Lord who defeated them but was surrounded by the Shadow Collective forces before he could kill the Brother.
Dooku and Grievous were brought aboard Maul's ship and Maul contacts Sidious and tells him the knews. The Sith Master tells Maul to kill them as he has no further use for them but Maul has other plans for them. Dooku was offered a deal from the Dathomirian to abandon Sidious and join Maul. Talzin appears and tells Dooku that he will be betrayed and that Sidious is ready for another apprentice.
The Republic Fleet arrived to attack and Dooku decided to work undercover with Maul against the Jedi as Grievous makes his escape. He killed Tiplee and then escaped with Saxon, Kast and Maul on a Gauntlet Fighter.
Maul revealed to Dooku that he knew that he wasn't really loyal to him and when they arrived on Dathomir, Talzin entered his body. Sidious arrived with Grievous and Talzin/Dooku and Maul duel them. Sidious comes out on top of Talzin easily. Talzin becomes whole as Dooku is freed and the Sith Master and Apprentice blast lightning at the Witch. Maul escapes as Grievous steps up and stabs Talzin, killing her.
Dooku ends his troubles with Ventress and Vos when he duels them on Christophsis. Ventress sacrifices herself to save Quinlan who fails to kill the Sith Lord in all his anger. Sidious sends help for Dooku even though he was unsure wether it would come and Tyranus makes his escape.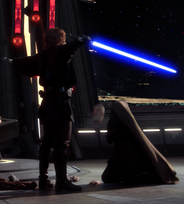 After kidnapping the Chancellor during the Battle of Coruscant, Dooku boards Grievous's ship the Invisible Hand with his captive. Jedi Obi-Wan Kenobi and Anakin Skywalker board the ship and evade Grievous and his forces. They reach the Chancellor but Dooku is there waiting for them. He duels them while Palpatine watches. Dooku knocks out Kenobi but is defeated by an angry Skywalker who cuts off his hands, takes Dooku's lightsaber and puts the two blades scissor like on either side of his head. Palpatine encourages Skywalker to finish him and after a long hesitation his anger takes over and he beheads the Sith Lord.
Dooku is soon replaced by Anakin himself who becomes Darth Vader at the end of the war.
Appearances
Edit
Star Wars Battlefront II (DLC)
Star Wars: Episode II Attack of the Clones (First appearance)
The Hidden Enemy (Indirect mention only)
Star Wars: The Clone Wars (film)
Supply Lines
Ambush (Appears in hologram)
Shadow of Malevolence (Appears in hologram)
Destroy Malevolence
Cloak of Darkness
Lair of Grievous (Appears in hologram)
Dooku Captured
The Gungan General
Defenders of Peace (Appears in hologram)
Blue Shadow Virus (Mentioned only)
Storm Over Ryloth (Mentioned only)
Liberty on Ryloth (Appears in hologram)
Children of the Force (Mentioned only)
Senate Spy (Appears in flashback(s))
Landing at Point Rain (Mentioned only)
Weapons Factory (Painting only)
Grievous Intrigue (Mentioned only)
R2 Come Home (Mentioned only)
Sphere of Influence (Appears in hologram)
ARC Troopers (Mentioned only)
The Mandalore Plot (Appears in hologram)
Duchess of Mandalore
Evil Plans (Appears in flashback(s))
Hostage Crisis (Appears in flashback(s))
Heroes on Both Sides (Appears in hologram)
Pursuit of Peace (Appears in hologram)
Nightsisters
Monster
Witches of the Mist
Counterattack (Appears in hologram)
Citadel Rescue (Appears in hologram)
Water War (Appears in hologram)
Gungan Attack (Appears in hologram)
Prisoners (Appears in hologram)
Shadow Warrior
Carnage of Krell (Mentioned only)
Kidnapped
Slaves of the Republic (Mentioned only)
Escape from Kadavo
A Friend in Need (Appears in hologram)
Friends and Enemies (Appears in hologram)
The Box
Crisis on Naboo
Massacre
Bounty (Appears in flashback(s))
Brothers
Revenge (Mentioned only)
Front Runners (Appears in hologram)
The Soft War (Mentioned only)
Tipping Points (Appears in hologram)
A Necessary Bond (Appears in hologram)
Revival (Mentioned only)
Eminence (Mentioned only)
The Lawless (Indirect mention only)
Sabotage (Mentioned only)
"Sisters"—Age of Republic Special 1 (Mentioned only; in the opening crawl)
The Unknown
Conspiracy (As Tyranus) (Appears in hologram)
Fugitive (As Tyranus) (Appears in hologram)
Orders
The Rise of Clovis
Crisis at the Heart
The Lost One
Destiny (Vision to Yoda)
Sacrifice
"Kindred Spirits"—Star Wars Insider 159 (Mentioned only)
Star Wars: Darth Maul—Son of Dathomir
Lords of the Sith (Mentioned only)
Tarkin (Appears in flashback(s))
A New Dawn (Mentioned only)
Leia, Princess of Alderaan (Mentioned only)
Thrawn: Alliances (Mentioned only)
Darth Vader 20: End of Games, Part I (Mentioned only)
"The Crimson Corsair and the Lost Treasure of Count Dooku" (Mentioned only)