Help me Obi-Wan Kenobi, You're my only hope!

This Article is in need of serious expanding. Once the state of this article is acceptable, replace this template with Template:Expand.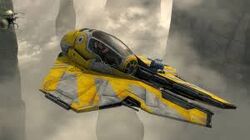 The Eta-2 Actis-class interceptor, more commonly known as the Jedi starfighter, and the Jedi interceptor, was a starfighter used by the Jedi during the Clone Wars used by the Jedi Order, and designed to replace its predecessor, the Delta-7 Aethersprite-class light interceptor and the Delta-7B Aethersprite-class light interceptor. The design of the Eta-2 interceptor would later inspire the Imperial T.I.E. Fighter.
Appearances
Edit
Sabotage
The Rise of Clovis
Voices
Destiny
Sacrifice
Lords of the Sith
Tarkin