Sorry about the mess

This article/secion is a mess! Please clean up this article before removing this template.
More to add, have you?

It is requested that this article/section of an article be expanded. Once the article contains more information, this template will be removed.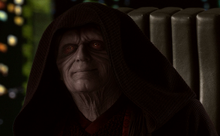 Galactic Emperor was a title given to those who were the leaders of the Galactic Empire, or something similar to an Empire. The first individual known to have this title was the secret Sith Lord, Darth Sidious, who gained the rank when he, as Chancellor, transformed the Galactic Republic into an Empire, and declared himself Emperor. Snoke used the title Supreme Leader as the leader of the First Order, which may be a rank similar to Galactic Emperor.
Appearances
Edit
Adventures in Wild Space: The Escape (Mentioned only)
Adventures in Wild Space: The Snare (Mentioned only)
Adventures in Wild Space: The Nest (Mentioned only)
Adventures in Wild Space: The Steal (Mentioned only)
Adventures in Wild Space: The Dark (Mentioned only)
"Orientation"—Star Wars Insider 157
Lords of the Sith
"Mercy Mission"—The Rise of the Empire (Mentioned only)
Tarkin
"Bottleneck"—The Rise of the Empire (Appears in hologram)
Lost Stars
Ezra's Gamble (Mentioned only)
Spark of Rebellion (Mentioned only)
Droids in Distress book (Mentioned only)
Servants of the Empire: Rebel in the Ranks (Mentioned only)
Breaking Ranks (mentioned only)
Empire Day (seen in holonet only)
Fire Across the Galaxy (mentioned only)
The Lost Commanders (mentioned only)
A Princess on Lothal (mentioned only)
Shroud of Darkness (mentioned only)
Twilight of the Apprentice (mentioned only)
Star Wars Episode IV: A New Hope (mentioned only)
Princess Leia, Part II (Mentioned only)
Princess Leia, Part V (Mentioned only)
Heir to the Jedi (Mentioned only)
The Weapon of a Jedi: A Luke Skywalker Adventure (Mentioned only)
Star Wars 1: Skywalker Strikes (Mentioned only)
Darth Vader 1: Vader (Appears in flashback(s))
Star Wars 4: Skywalker Strikes, Part IV (Mentioned only)
Darth Vader 2: Vader, Part II (Mentioned only)
Darth Vader 3: Vader, Part III (Mentioned only, in the opening crawl)
Darth Vader 4: Vader, Part IV (Mentioned only)
Darth Vader 5: Vader, Part V
Darth Vader 6: Vader, Part VI
Darth Vader 7: Shadows and Secrets, Part I (Mentioned only in the opening crawl)
Star Wars 18: Rebel Jail, Part III (Mentioned only)
Darth Vader 16: The Shu-Torun War, Part I
Darth Vader 19: The Shu-Torun War, Part IV (Appears in hologram)
Darth Vader 20: End of Games, Part I
Darth Vader 21: End of Games, Part II (Mentioned only)
Darth Vader 22: End of Games, Part III
Darth Vader 23: End of Games, Part IV (Mentioned only)
Darth Vader 24: End of Games, Part V
Battlefront: Twilight Company (Mentioned only)
Star Wars Episode V: The Empire Strikes Back
Star Wars Episode VI: Return of the Jedi
Episode VI: Return of the Jedi Read-Along Storybook and CD
"Blade Squadron"—Star Wars Insider 149–150 (Mentioned only)
"The Levers of Power"—The Rise of the Empire (Mentioned only)
Shattered Empire, Part II (Appears in hologram)
Shattered Empire, Part III (Mentioned only)
Aftermath (Mentioned only)
Star Wars: Uprising (Mentioned only)
Aftermath: Life Debt (Mentioned only)
Bloodline (Mentioned only)
"The Crimson Corsair and the Lost Treasure of Count Dooku" (Mentioned only)
Star Wars: The Force Awakens: A Junior Novel (Mentioned only)