More to add, have you?

It is requested that this article/section of an article be expanded. Once the article contains more information, this template will be removed.
Solo: A Star Wars Story is the second Star Wars Anthology film produced by Lucasfilm Ltd. that, like the first Anthology film, Rogue One, is not a part of the main Star Wars Saga. The movie will cover the backstory of the famous smuggler, Han Solo, in the years before his appearance in Star Wars: Episode IV A New Hope. Other than Han, several other characters from the original trilogy will be returning, including Han's wookie sidekick, Chewbacca, and Lando Calrissian.
Official description
Edit
Board the Millennium Falcon and journey to a galaxy far, far away in Solo: A Star Wars Story, an all-new adventure with the most beloved scoundrel in the galaxy. Through a series of daring escapades deep within a dark and dangerous criminal underworld, Han Solo meets his mighty future copilot Chewbacca and encounters the notorious gambler Lando Calrissian, in a journey that will set the course of one of the Star Wars saga's most unlikely heroes.
Development
Edit
The earliest incarnations of a live-action depiction of young Han Solo, before the events of
Star Wars: Episode IV A New Hope
, came during the pre-production of
Star Wars: Episode III Revenge of the Sith
. Writer and director
George Lucas
conceived an idea of Solo as a child on
Kashyyyk
, with Chewbacca raising the young boy like a son. Solo would have been present during the
Battle of Kashyyyk
and would have encountered
Yoda
, helping the
Jedi Master
discover scraps of a droid that could have aided Yoda in determining the whereabouts of
General Grievous
. Concept art from
Iain McCaig
showed the young Solo as a slob, a juxtaposition of the character in his later years. "He's such a persnickety guy later — he always has to have the best of everything," McCaig said in
The Art of Star Wars Episode III: Revenge of the Sith
, "so I thought it'd be great if when he was a kid, he was an absolute slob." These concepts never made it out of pre-production, and Solo did not appear in
Revenge of the Sith
—though Chewbacca ultimately did make a cameo appearance during the battle.
After the release of Revenge of the Sith, Lucas began planning a live-action television series called Star Wars: Underworld, set between Revenge of the Sith and A New Hope. The series, dealing with elements of the criminal underworld, could have included some of Solo's backstory. According to Stephen Scaia, one of the writers of the ultimately unproduced series, revealed that the writers came up with a story for how Solo met Chewbacca. Another story would have dealt with how Solo met Lando Calrissian, who first appeared in Star Wars: Episode V The Empire Strikes Back.
Pre-production
Edit
Ideas for a young Han Solo film began to percolate in the lead up to The Walt Disney Company's acquisition to Lucasfilm. In October 2012, as Lucas was preparing to sell his company, Lucasfilm president Kathleen Kennedy contacted Lawrence Kasdan, writer of The Empire Strikes Back and co-writer of Star Wars: Episode VI Return of the Jedi, and asked him to meet her and Lucas to discuss new films in the Star Wars franchise. Kasdan recounted that Lucas had already come up with some basic ideas for the sequel trilogy and had also come up with the concept of stand-alone films. One of those movies was about young Han Solo, before the events of A New Hope. Kasdan was initially hesitant on being part of the new films, but he decided he could do the Han Solo movie as Solo was his favorite character. He was also hired to consult on and, alongside director J.J. Abrams, eventually co-write what became Star Wars: Episode VII The Force Awakens.
The existence of a Kasdan-driven stand-alone film was first announced on February 5, 2013. The announcement came with word that Kasdan would write one film, while Simon Kinberg would be working on another. In an investor call, Disney chairman and CEO Bob Iger revealed that the original focus of Lucasfilm was for the sequel trilogy but that they were also working on stand-alones that would not be part of the core Star Wars Saga. It was not until July 7, 2015 that the film's release date of May 25, 2018 and its focus on a young Han Solo were announced. It was further announced that the project would be directed by Christopher Miller and Phil Lord. Jon Kasdan, Lawrence's son, was also announced as a co-writer. On March 8, 2016, Iger confirmed that the film was an "origin story about Han Solo and Chewie."
Several thousand actors auditioned for the part of Solo, before Alden Ehrenreich was officially announced during Celebration Europe. Additional casting announcements revealed that Donald Glover would play Lando Calrissian and Emilia Clarke would play an unannounced role.
Production
Edit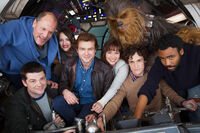 Principal photography began in January 2017, with a working title of "Star Wars: Red Cup". By March, a film crew was present in Fuerteventura, Spain. One of the three rewards in the 2017
Force for Change
fundraiser will be a role in the film.
On June 20, 2017, Lucasfilm announced that directors Phil Lord and Christopher Miller were departing from the project due to creative differences and that a new director would be announced soon. Entertainment Weekly reported that Lord and Miller encouraged and improvisational style on set, which Lucasfilm insiders believed was moving the film away from the vision crafted by the Kasdans in their script and ended up significantly changing the story. Lucasfilm believed that these apparent issues could be fixed during reshoots, but Lord and Miller were reportedly reluctant to significantly alter their approach to the film. As a result, Kennedy made the decision to remove Lord and Miller from the production.
On June 22, it was announced by Lucasfilm that Ron Howard would take over directorial duties for the film. Howard had previously worked with Lucasfilm to direct the 1988 fantasy film Willow, starring veteran Star Wars actor Warwick Davis. After the announcement, Howard said that he had been a fan of Star Wars since the beginning—he worked with Lucas on the film American Graffiti, pre-dating A New Hope—and that he found it "gratifying to be asked to lend my voice to the [Star Wars] universe." Michael Kenneth Williams was originally cast in the film but was unavailable for the reshoots, so he was replaced by Paul Bettany.
On October 14, it was announced that screenwriter Jon Kasdan and first assistant director Toby Hefferman will portray Imperial officers Tag and Bink, two characters that first appeared in the Star Wars comics published by Dark Horse Comics.
On October 17, Ron Howard confirmed that production had wrapped up, and he officially announced the title of the film would be Solo: A Star Wars Story.
Solo: A Star Wars Story is scheduled to be released on May 25, 2018, the 41st anniversary of the release of A New Hope, in which Harrison Ford first appeared as Han Solo. Despite the firing of Lord and Miller, Lucasfilm has maintained that the film is still on schedule for its intended release date.
Cast and Crew
Edit
Creature and Droid Puppeteers
Edit
Additional Voices
Edit
Uncredited Cast and Crew
Edit
Magazine Covers
Edit
Principal Photography
Edit
Trailers
Edit
Community content is available under
CC-BY-SA
unless otherwise noted.