Help me Obi-Wan Kenobi, You're my only hope!

This Article is in need of serious expanding. Once the state of this article is acceptable, replace this template with Template:Expand.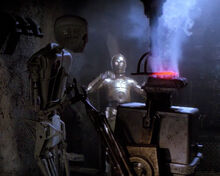 An EG-6 power droid was present in Jabba's Palace around 4 ABY.  Around the time R2-D2 and C-3PO arrived, the power droid squealed in pain as 8D8, under the command of its supervisor droid EV-9D9, lowered a hot glowing iron on the soles of its feet.
Appearances